Focus on Paneling
What's on your walls?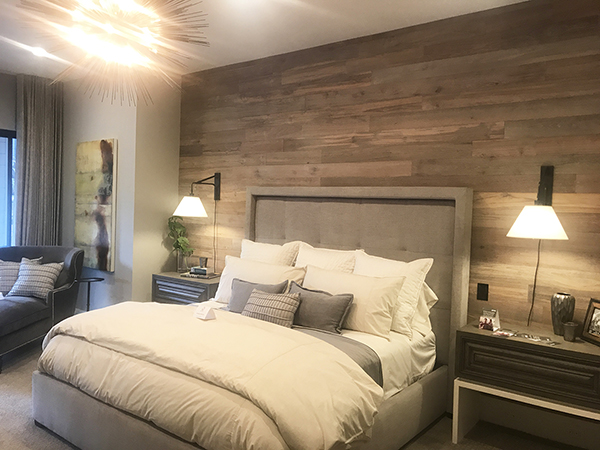 Reclaimed wood paneling is a trend that's not going away any time soon and TerraMai PDX is proud to offer a range of paneling and wall treatments that can be used to warm up any room. Below are some of our newest favorites and most popular options. Email us at [email protected] to request a sample or stop by the showroom at 345 SE Yamhill St. (at the corner of MLK and Yamhill).
Kukui Teak
Pictured above in the master bedroom at this year's Street of Dreams "Elysian" home, our Engineered Teak with a Kukui finish adds a level of sophistication to any wall.
Lost Coast Fog
Speaking of grey our Lost Coast Redwood paneling with the Fog finish also had a cameo at the Street of Dreams "Elysian," on the soaring accent wall of the family room.
Dark Horse
Reclaimed black horse fencing from the American South has been recreated as beautifully distressed paneling, skip planed and available finished with a dark or clear oil.
Long Plank Teak
Untouched or finished, reclaimed Teak makes a statement. This paneling has a svelte profile and carries with it the marks of its prior life lived in Southeast Asia.
Western Red Cedar
Standing dead trees on Vancouver Island have been carefully taken down and milled into thin and versatile paneling available unfinished or dressed up with a natural oil.
Doug Fir RePLY
Our RePLY transforms cast-offs from industrial door and post manufacturing operations in the Pacific Northwest into an eye-catching paneling product unlike any other.
Dirty Face
Natural weathering gives Oak Dirty Face Paneling its characteristic patina. The narrow 3 1/2-inch face of this paneling adds to its adaptability to a number of designs.
Mission Oak
A square edge and narrow face make this unfinished Red and White Oak paneling a clutch play for a wide range of designs. Classic look with just a touch of reclaimed character.
Jewel Box
Thanks to a unique 8-step finish process, the solid Doug Fir Jewel Box collection — available in Ruby Red, Blue Topaz, Smoky Diamond and Black Pearl — is lush with depth and color.